Yuba College Athletic Hall of Fame to induct 23rd Class on Saturday, April 27, 2024.
Yuba College has a long, rich history of athletics, and the Hall of Fame aspires to honor that history and the outstanding athletes and special contributors that have left their mark on the program. On April 27, 2024 Yuba College will welcome their 23rd Class of Honorees which will be announced in January 2024.
The Hall of Fame welcomed its first class of honorees in 1995.  A selection committee of former and present Yuba College athletes and employees, and Yuba/Sutter area residents meets annually to review nominations and make selections to the Hall of Fame.  With the help of many individuals, the committee has a nomination list of potential inductees.  We are aware that the list is not complete, and the committee continues continue to add names of potential inductees.  Nominations are evalua
ted using the following SELECTION CRITERIA.
The primary goal of the Yuba College Athletic Hall of Fame is to permanently recognize individuals and teams for outstanding athletic contribution and/or participation at Yuba College.
The Hall of Fame committee encourages nominations. Nominations will be accepted at any time, but to be considered for the next Class of Inductees, the nominations need to be submitted by the Nov 1 date prior to the ceremony. Please click on the attached link to access a nomination form.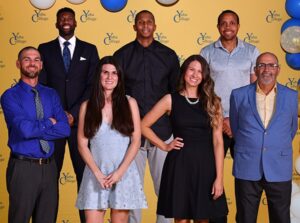 2023 Hall of Fame Class of Inductees
Zach Andrews – Basketball, 2003-2005
Tim Danna – Soccer, 2004-2006
Marianna Danna Lamb – Soccer, 2007-2009
Festuz Ezeli – Special Recognition 2007-2008
Emily Trudgeon Edwards – Volleyball, 2005-2006
Ronald "Rusty" Hakenson – Football 1970-1972
Lawrence Wright – Basketball, 2002-2004
Steve Hornor – Special Recognition, Athletic Trainer, 1980-96
2022 Hall of Fame Class of Inductees
Jim Arnold – Football, 1987-1988
Luke Byrnes – Football, 1997-1998
Liliana Partida – Track & Field, 1976-1978
Dr. Fred Smiley – Basketball, 1961-1963
Angela Vannucci – Volleyball, 1998-1999
1984 Baseball Team
2019 

Hall

 

of

Fame Class 

of

Inductees
Brett Ost – Basketball, 2001-03
Kenny Smith – Basketball, 2001-03
Tory Davis – Baseball, 2002-03
1999 Women's Soccer Team
2018 Athletic Hall of Fame Honorees
Rod Beilby – Special Recognition, AD 1995-2012, College President 2012-2014
John Cassidy – Special Recognition
Ray Balbutin – Tennis, 1968-1970
 2017 Athletic Hall of Fame Honorees
Thomas "Tib" Belza – Football and Baseball, 1974-76
Jenny Stanley-Dove  – Volleyball & Softball, 1993 & '98
Josh Glynn – Baseball, 1999-2001
1985-86 Men's Basketball Team