Payment Options – How to Pay Fees/Tuition
Before registering for classes, you must have your BOG waiver in place or you will be directed to:
1. Pay your registration fees in full through Self-Service.
Pay in Full with a Checking or Savings Account, or a Credit or Debit Card: Students can pay in full through Self-Service. There is no charge for paying in full by automatic bank payment (ACH), credit or debit card.  Yuba Community College District accepts Visa, MasterCard, Discover and American Express.
-or-
2. Setup a Payment Plan:
Students may sign up for a payment plan through Self-Service on e-Cashier with a credit card, checking account, or savings account. Nelnet Business Solutions e-Cashier is a third party vendor that allows students to sign up for a monthly payment plan. There is a $25 non-refundable set up fee for this payment plan option. Payment plan options include a down payment and 3 or 4 monthly payments.  Payments are automatically drafted on 5th of each month. Currently there is no option to include Parking fees or textbook fees in a payment plan. Please plan ahead.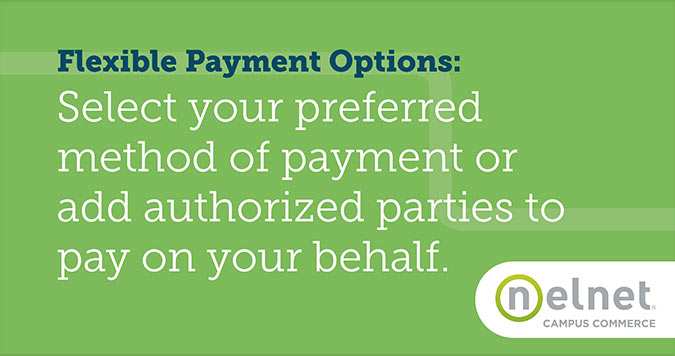 We understand that paying for college is stressful. That's why we've chosen a payment plan that keeps you informed.
It's simple. With a payment plan, you can pay your tuition and fees over time without accruing interest: